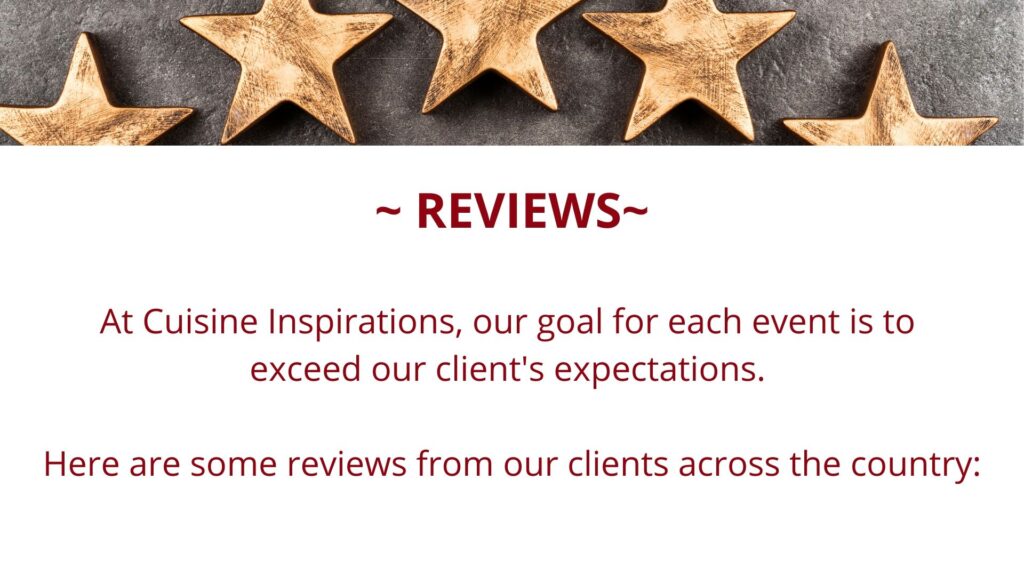 "Fantastic cooking and dining experience with Scott…I would highly recommend Scott for any kind of dining event!" ~Amy S., Short Hills, NJ
---
"Absolutely loved our dinner! My husband and I decided to hire a chef at the last minute for our and found Scott online – he was extremely accommodating. He arrived promptly at our agreed time and was very professional throughout the entire experience…Would 100% recommend Scott for dining experience needs, his service was A1!" ~Briana S., Staten Island, NY
---
"This review is LONG OVERDUE…Scott is AMAZING! Our family has worked with him (and his wife) in various capacities: multiple Christmas dinner parties and more than one wedding shower. He worked closely with me to ensure everyone's dietary needs (and finicky eating) were addressed. He seamlessly worked in the kitchen and handled everything from shopping (with saving us money!) to prepping to cooking to serving to cleaning! On more than one occasion, we were in the kitchen with him and he walked us through what he was doing so we learned a thing or two. He makes recommendations and quickly gets to know your food preferences. I recommend him without reservation!" ~Jaime M., Los Angeles, CA
---
"5 stars really aren't enough. Scott was absolutely incredible from start to finish of planning 2 meals for my Mom's 70th birthday weekend. Friendly, flexible, and quick with responses during the planning process. The food experience was amazing….we could smell delicious things cooking moments after Scott arrived and by dinnertime our mouths were watering! He did a fun and festive Mexican menu and everything was beyond delicious. Scott also cooked breakfast and the wonderful smells lured everyone to the kitchen one by one. He was kind enough to allow my young nieces to assist him in the kitchen and they loved it and learned a lot about the art of cooking. He was great with them. Scott went above and beyond, and his genuine personality and passion for what he does left quite an impression on our entire family. Trust me, you will be very happy with Scott!" ~Dena H., NY, NY
---
"Scott made my wedding a success. Everyone loved the food, I spotted some guests asking for another plate. Everything was truly mouthwatering from appetizer to main course. His special sauce was unbelievable delicious. Scott, thank you for such a great memory and unforgivable experience. I will definitely hire you again." ~Lakisha R., Orange, NJ
---
"From the moment I contacted Scott and from our first contact I knew this was the right fit for our special event. However Chef Scott and his team including his wife and son far outweighed our expectations and what we expected of them and what we agreed on. Several of our guest when asked what their favorite moment of the weekend was they said the food. Thank you Scott and Rachel and your team. I will be more than happy to provide anyone that would like any recommendations." ~Johanna L., Ft. Myers, Fl
---
"Chef Scott cooked for a group of 10 girls for my sister's bachelorette party in PA. His meal was nothing short of fabulous! The "Eat the Rainbow" salad was everyone's favorite and was so different and refreshing.  He even surprised us with dessert which consisted of chocolate truffles covered in different freeze-dried fruit- amazing! He arrived on time, took the proper covid protocols, and left the kitchen spotless after dinner!  I highly recommend hiring Scott for any event, large or small." ~Tina F., Massapequa, NY
---
"Chef Scott is wonderful! I reached out to Scott a few weeks before my best friend's bachelorette party wanting a personal chef to cook dinner at our Airbnb. He responded almost immediately and was so creative and helpful when designing our menu. He was able to accommodate multiple eating restrictions and allergies and even created a custom dish for two girls that are vegetarians. The dinner itself was delicious and we had such a great time! He was prompt and cleaned everything afterwards so we didn't have to worry about it. 10/10 would recommend!" ~Jessica V., Mantua Twp., NJ
---
"We surprised my aunt's birthday with a wonderful dinner made by Scott.  It was healthy and absolutely delicious meal. Great presentation.
Scott is a great guy to make a celebration so memorable." ~Yolanda G., Westbury, NY
---
"I needed a chef for our family and many times if entertaining.  Scott is a perfect match for us.  A wonderful family man. I love watching him create magic in my kitchen.  Beautiful presentation and easy to work with. Very professional.
Rather eat home now than go out.  My goal!!" ~Dulce D., Sanibel, Fl
---
"First off let me share that our group searched for the "RIGHT" fit for our Special Birthday Celebration, Ladies Event.  Scott was the epitome of classy, knowledgeable, patient, kind with the laundry list of questions we had.  Our event was on shaky ground due to the Hurricane Florence.
Scott stayed in touch thru-out to give us updates.  He was fully prepared, arrived in a timely fashion.  While cooking he answered all the questions of the steps of what he was making for us. Once the meal was ready to be plated, one item was NOT UP TO PAR. He quickly dashed out to obtain a new (better) item.  The meal was absolutely A M A Z I N G, delicious,
pretty, even sexy.  We would re-hire re-book recommend any time !!!!
The dessert sealed the deal !!!" ~Penelope L., Manhattan, NY
---
"We had a small gathering at our home for a family celebration and were so happy we used Cuisine Inspirations catering services. Scott's food was absolutely delicious and plentiful. He was efficient and left the kitchen spotless. Our friends and family who were there always ask us for his information. We will definitely hire him again for our next event!" ~Claudia A., Ridgewood, NJ
---
"We were so pleased with the meal Scott prepared for us. He was so easy to communicate with before our event and was very personable during our dinner. He went above and beyond to make sure we were satisfied with the whole experience. I would definitely recommend Scott !" ~Brittany D., Nashville, TN
---
"Scott did an excellent job catering my birthday dinner in the poconos this weekend! He was prompt, polite, extremely accommodating and the food was excellent. I would definitely recommend him for any of your catering services!!" ~Liseli J., Columbia Heights, Washington, DC
---
"Chef Scott catered a bachelorette party for us in the poconos. From booking to planning the menu to the night of the event, it was a completely seamless experience. The food was delicious and the entire experience was a highlight of the weekend for all. Highly recommended!" ~Katie W., Spring Lake, NJ
---
"Scott was so easy to work with and did a great job. He was easy to communicate with and very flexible. He nailed the menu, and every single thing he made for us was fresh and delicious! We were a large party to accommodate and he did a great job not only making everything, but also did a great job bringing it out and explaining the dish. It was wealth worth the very reasonable cost, allowing us to have a delicious dinner in a much more intimate setting.
Thanks again Scott!" ~Alexandra G., Manhattan, NY
---
"We hired Scott to create a menu for our bachelorette party. He was on time, professional and the food was amazing! He was very personable and created a great experience. We will definitely use him again and recommend him to all." ~Marcia H., North Arlington, NJ
---
"Scott was a pleasure to work with for our Open House event the evening before our wedding.  We wanted an exceptional experience for our guests.  Our wedding had a wine theme so we asked Scott to provide us with a unique list of heavy hors d'oeuvres that would go with the wines we served at the Open House and our wedding. Everyone raved about the food!  I actually watched people line up as new dishes were presented.  I could not tell you what the best item on his menu was – the tuna avocado cucumber sushi bites, shrimp & grits, bacon wrapped stuffed dates, prosciutto cups with pear, sausage puffs or the Asian short ribs.  
He also made it easy for us by providing the option to have servers that helped to serve and clean up from the event.  Spot on we nailed creating the exceptional experience for our guests by working with Scott at Cuisine Inspirations.  I would recommend him for your event!" ~Debbie G., Randolph, NJ
---
"Our dinner was sooo good thanks to Scott. He arrived on time and was very professional about everything. Food was fantastic with a price you can't beat. I would hire Chef Scott again for any meals I would hire a Chef for and I'll be referring/recommending him to anyone looking for a personal Chef for any type of event." ~Goodman O.
---
"Amazing! Arrived on time and worked without needing any attention ! He was wonderful with our guests and the food was very good! Thank you!" ~Dimple M.
---
"We had a great experience with Scott for my wife's birthday party. Scott did an incredible job with all the food prep, the quality of the food and the overall presentation. Scott prepared and cooked a hibachi style menu for about 15 people and we were all thoroughly impressed. We also have a gluten allergy in the family and Scott was more than prepared to handle our needs. Scott was also great with our young children during the evening. I would definitely use Scott again for any private chef events and recommend him to my close family and friends. Thanks Scott!" ~Brendan M.
---
"Scott and his assistant Jack were so great! We were a party of 11, celebrating a 40th birthday and wanted to have a special night. Our experience was everything we wanted and so much more. Not only did Scott and jack make amazing food but they were also very helpful with all of our drinks and setting up. I would highly recommend this amazing team!" ~Melissa D.
---
"Scott and his team were great, they catered my husband's 40th birthday party for 30+ people. They prepped everything at our house, served, and left the kitchen spotless. Everyone raved about the food! ~Erynn F.
---
"Scott ran an 8 person cooking class for us during a work retreat. He came up with the menu, the course outline, brought equipment and ran a perfect operation. The food was fantastic and everyone had a great time." ~Austin W.
---
"Scott's food was delicious and he was so pleasant and easy to work with. He made the evening a HUGE success!!" ~Vivian D.
---
"Scott was awesome. He was always on time. The food he prepared was excellent. It was the first time I every had someone actually cook the food on premises. Highly recommend him and I will certainly use him again when the need arises. Bravo !!!!" ~Brien C.
---
"Years ago when I was first considering going into the culinary industry, I found Scott and took one of his cooking classes. Immediately I knew I had made a good decision. His teaching style was fun and engaging, hes incredibly knowledgeable, and his years of experience show through! Not only that, but I asked him to help me cater a party for family members as a way to get myself more experience. He helped me with deciding recipes, portion sizes, pairings, everything! Now as Im entering the industry, I look back and can honestly say that he was a pivotal part in my career path and I cant think him enough. I would recommend Scotts services to anyone." ~Peter H.
---
"I can praise Scott enough for the on site catering / chef job he did at our holiday party. Menu setting, preparation and the party were executed flawlessly. Having the confidence in Scott allowed us to entertain our guests and be part of the party. Still today people rave about the party and the deliciously prepared food." ~Christian J.
---
"We had such an awesome experience with Scott and Cuisine Inspirations for our New Year's Eve dinner in the Poconos. Scott was attentive, quick to reply, creative, flexible, super helpful (willing to pick up additional groceries for us), and, most importantly, the food was DE.LIC.IOUS. From the appetizers to the main course, absolutely everything was 10 out of 10. From a COVID perspective, Scott & Rachel wore masks the entire time, and we felt very safe. They were quick to prepare and clean up after we ate. If you go with Scott & Cuisine Inspirations, you will NOT be disappointed. Highly recommend!" ~Jacquelyn D.
---
Though I do a lot of cooking, I am not as experienced with roasts, so I hired Scott to prepare prime rib for a family holiday dinner. In a word, SUPERB! Perfectly seasoned and absolutely delicious. I will definitely be referring him to friends and family, and hiring him in the future myself!" ~Kacy L.
---
"Had the best birthday dinner ever all thanks to Scott! Easy communication, amazing food, and he made the night so special and fun. Can't wait for my next dinner party!" ~Mackensi C.
---
"Scott was absolutely AMAZING!!!!!! We had him for a bachelorette party and was blown away!!!" ~Samantha C.
---
"Scott had an amazing personality and made having a chef in the house an amazing experience. The food was unbelievable and Scott went above and beyond and accommodated everyone's food allergies. He also used the left overs to make food for the following day." ~Kristen P.
---
"scott is professional, fun, and goes out of his way to ensure a memorable experience for everyone. 10/10 recommend!! outstanding experience." ~Kate C.
---
"Had an amazing dinner for my brothers bachelor party. Scott was very prompt and food was hot! His staff and himself were very nice and I would recommend 10/10." ~Jake R.
---
"Scott cooked for us on Saturday night. He is the ultimate professional and our meals were delicious. Salmon, chicken and beef cooked to perfection." ~Jill B.
---
"We have just returned from a long weekend friends/family group trip and Scott was our very talented and gracious chef. He created amazing dinners for our large group, and his cuisine catered to everyone's very varied palates. We were all pleased with the meals that Scott created and we would 100% recommend him. We certainly intend to secure his services again for future events. Thanks Scott!" ~Renee N.
---
"Have worked with Scott a few times, great service, great results!" ~Bart B.
---
"Fantastic cooking and dining experience with Scott! I surprised my husband for his 50th bday by hiring Scott to come cook dinner for 14 family members ranging in ages from 3 – 75 yrs old with a whole host of dietary restrictions from celiac, to low fat to wheat free, dairy free. Scott was able to easily accommodate all of our requests. He was timely, professional and most of all FUN! We planned an interactive dinner where my husband's family who loves to cook helped Scott prepare the multiple dishes we had for dinner. I would highly recommend Scott for any kind of dining event!" ~Amy L.
---
"Scott and his team went above and beyond to make our clients engagement party everything they wanted and I'm already looking forward to our next event together!" ~Joanne C.